In the heart of the picturesque town of ChocoValley, an idyllic gem nestled between lush hills and forests, lies a quaint chocolate shop called "Amelia's Enchanted Chocolates." The store's exterior, adorned with warm colors, whimsical signage, and exquisite stained-glass windows, serves as a delightful haven for all who pass by. The tantalizing aroma of fresh chocolate fills the air, luring locals and tourists alike, seeking respite from the world's hustle and bustle, eager to indulge in the heavenly dessert that awaits them.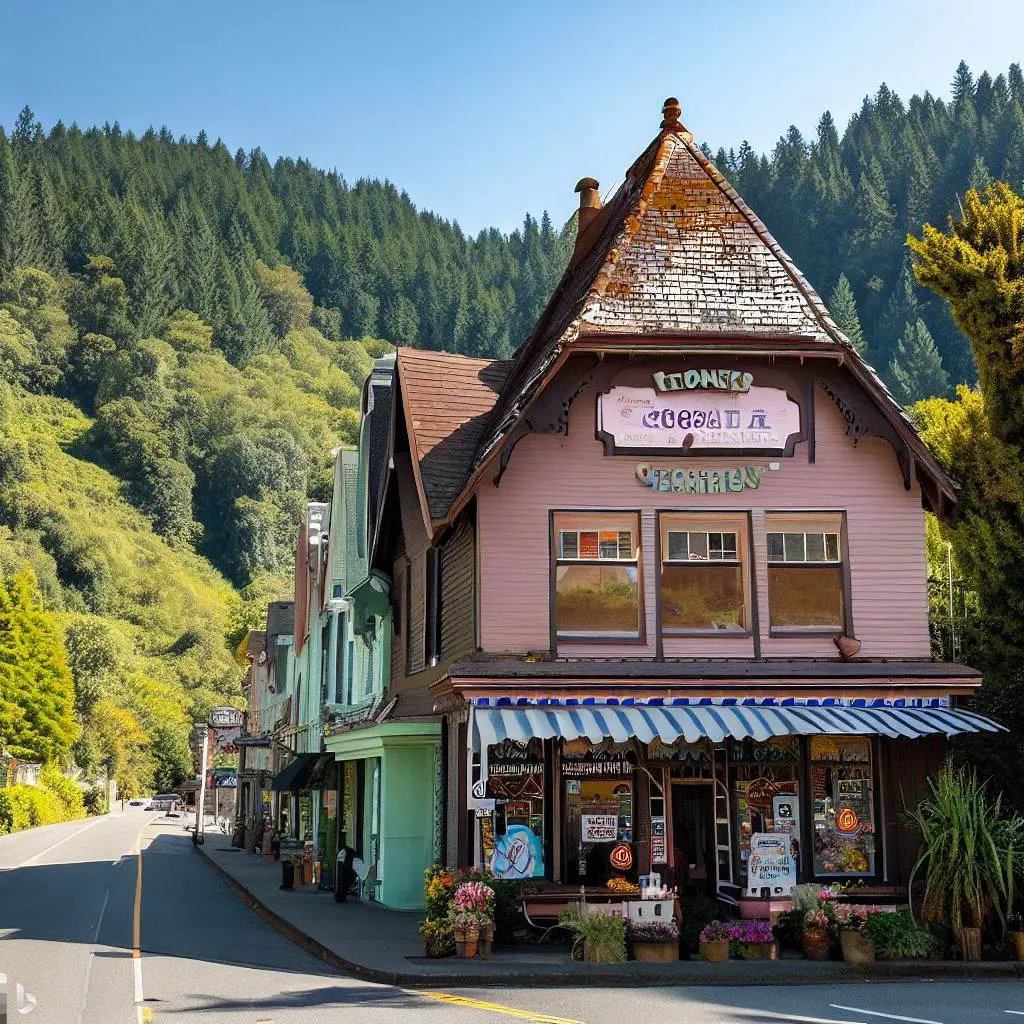 Amelia Duval, an enthusiastic and gifted chocolatier in her early thirties, exudes a warm and magnetic aura. Her deep hazel eyes sparkle with curiosity and passion for her craft. While working in the chocolate shop, her thick chestnut hair cascades down her back in waves and is often pulled into a messy bun. A few rogue strands always escape, framing her heart-shaped face and adding a charming touch.
Her sun-kissed, golden-hued skin, reminiscent of the chocolates she crafts, speaks of her many travels in search of rare and exotic ingredients. Amelia's hands, skilled and steady, bear the marks of hard work – scratches and burns from countless hours spent perfecting her recipes.
Of average height with a slender and athletic build, Amelia's physique is a testament to her active lifestyle and adventurous spirit. She often wears simple yet elegant clothing in earthy tones, complementing her warm demeanor. Her favorite apron, splattered with chocolate stains and dusted with cocoa powder, symbolizes her dedication and love for the art of chocolate-making.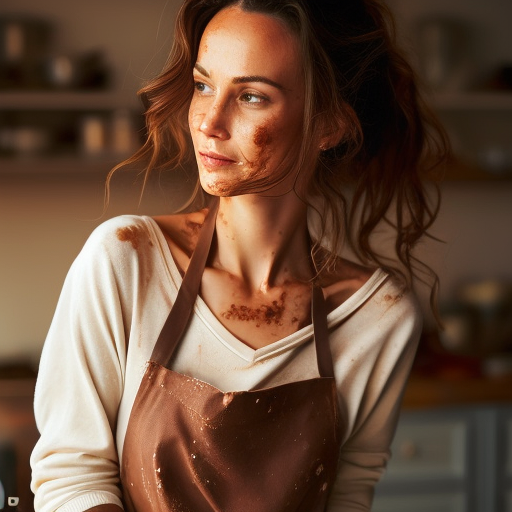 Amelia's life revolves around chocolate. From an early age, she was fascinated by the art of chocolate-making, learning the basics from her beloved grandmother, Madeleine. Over the years, Amelia honed her skills, incorporating new techniques and flavors into her repertoire. She shares a deep bond with her late grandmother and often feels Madeleine's guiding presence in the kitchen.
One rainy afternoon, Amelia received an unexpected package, wrapped in brown paper and tied with twine. The package was unmistakably inscribed in her late grandmother's handwriting. Curious, Amelia opened it to discover a leather-bound journal filled with Madeleine's unique cursive script, intricate illustrations, and detailed recipes.
As Amelia flipped through the pages, she became engrossed in her grandmother's culinary journeys meticulously documented over the years. That's when she stumbled upon a particularly fascinating entry—an ancient recipe dating back to the Middle Ages and the Renaissance. This dark chocolate creation boasted a truly unique blend of flavors and ingredients, promising a taste experience like no other. The recipe was infused with exotic spices and rare botanical, some long forgotten.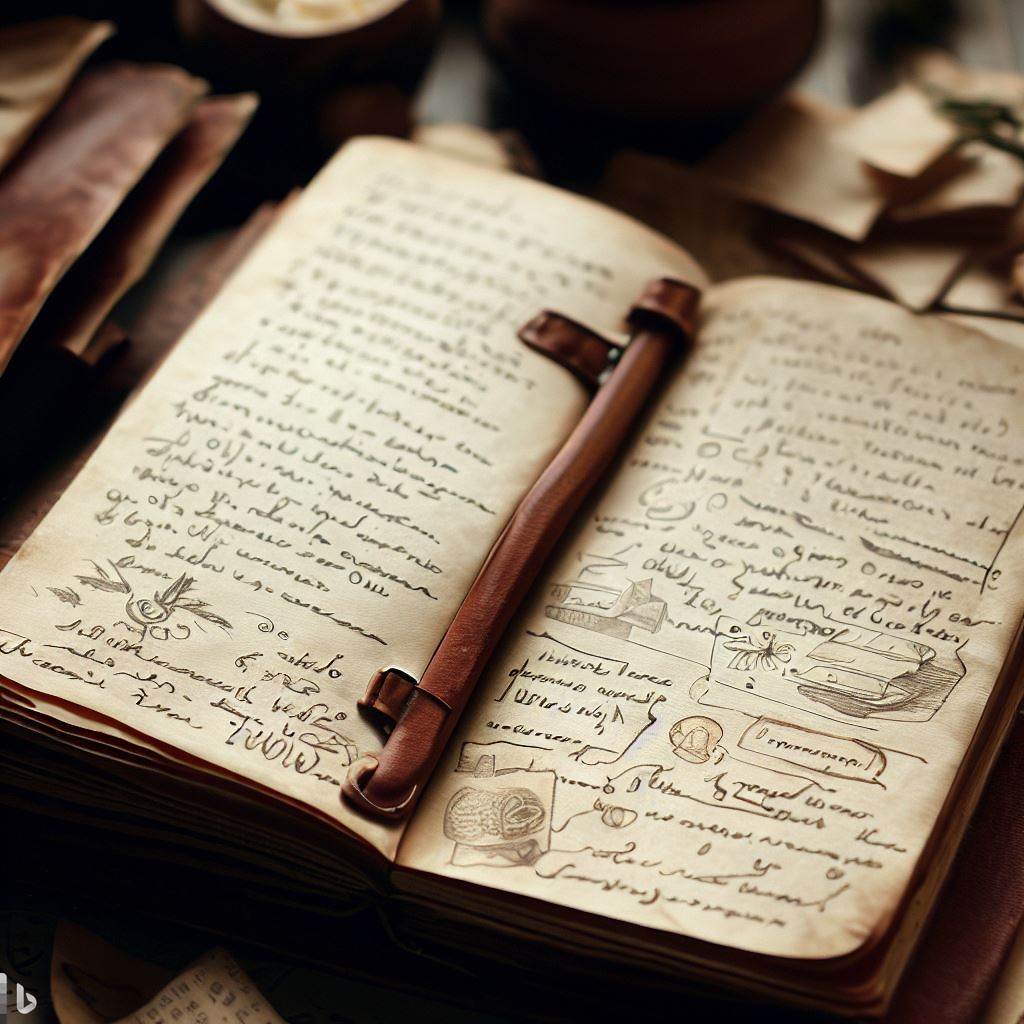 Eager to bring this ancient chocolate masterpiece to life, Amelia immersed herself in the process of deciphering the secret recipe. She began by carefully transcribing the entire recipe and conducting detailed research on each ingredient. Surprised by the rare and lost ingredients, Amelia searched for clues through ancient books and consultations with historians. Her research revealed the recipe's historical and cultural significance, tracing back to the Middle Ages and the Renaissance.
Through her conversations with historians, Amelia learned how to refine these ingredients and combine them with modern culinary techniques. She embarked on a series of experiments, hoping to recreate the uniquely delicious miracle by incorporating these age-old ingredients into her chocolate creations.
After much trial and error, Amelia cracked the mysterious formula and successfully produced a chocolate with historical and cultural heritage. The taste was astounding, offering a new sensory experience while bringing a long-forgotten historical story into modern lives.
Days turned into weeks as Amelia became consumed by the dark chocolate temptations. She tirelessly experimented, refined, and perfected recipes. As Amelia embarked on this culinary adventure, she felt a deep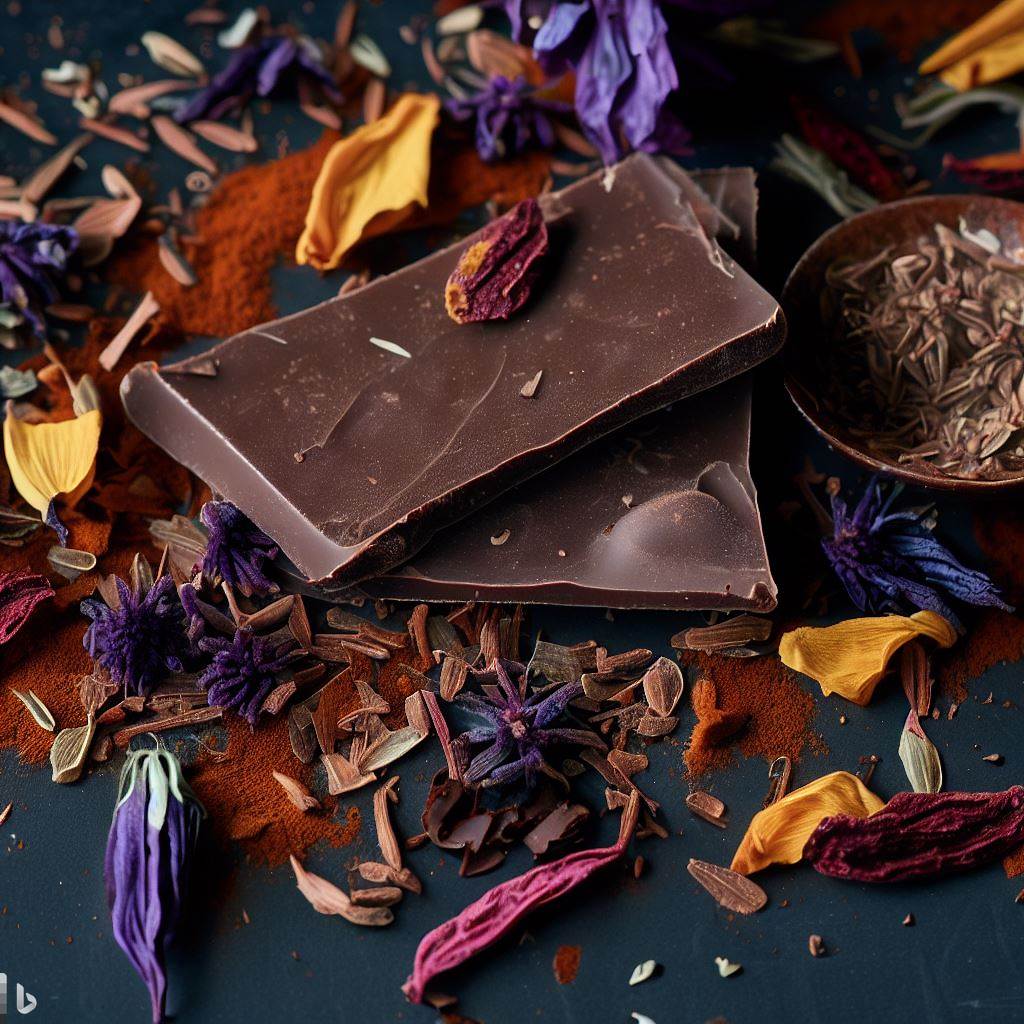 Dark Chocolate with Exotic Spices and Rare Plants Recipe
Ingredients:
8 oz (225g) high-quality dark chocolate (70% cocoa or higher)
1 tsp coconut oil
1/2 tsp ground cardamom
1/2 tsp ground cinnamon
1/4 tsp ground nutmeg
1/4 tsp ground cloves
1/8 tsp ground allspice
1/8 tsp ground star anise
Pinch of ground saffron
1 tsp dried lavender flowers
1 tsp dried rose petals
1/2 tsp dried, edible calendula petals
1/4 tsp sea salt flakes
Instructions:
Prepare a double boiler by placing a heatproof bowl over a saucepan filled with 1-2 inches of water. Make sure the bottom of the bowl does not touch the water. Heat the saucepan over low heat.
Break the dark chocolate into small pieces and add them to the heatproof bowl, along with the coconut oil. Gently melt the chocolate, stirring occasionally to ensure even melting.
While the chocolate is melting, combine the cardamom, cinnamon, nutmeg, cloves, allspice, star anise, and saffron in a small bowl. Mix the spices thoroughly to create a uniform blend.
Once the chocolate has completely melted, remove the bowl from the double boiler. Stir in the spice blend until it is evenly distributed throughout the chocolate.
Gently fold in the dried lavender flowers, rose petals, and calendula petals until they are evenly distributed.
Prepare a baking sheet by lining it with parchment paper. Pour the spiced chocolate mixture onto the parchment paper, using a spatula to spread it into an even layer, approximately 1/4-inch thick.
Sprinkle the sea salt flakes evenly over the top of the chocolate.
Allow the chocolate to cool at room temperature for about 10 minutes, then transfer the baking sheet to the refrigerator. Chill the chocolate for at least 2 hours, or until it is completely set.
Once the chocolate has set, remove it from the refrigerator and carefully break it into irregular pieces or cut it into squares, as desired.
Store the dark chocolate with exotic spices and rare plants in an airtight container in a cool, dark place for up to 2 weeks. Enjoy this unique and flavorful treat that combines the richness of dark chocolate with the allure of ancient spices and the beauty of rare botanicals.