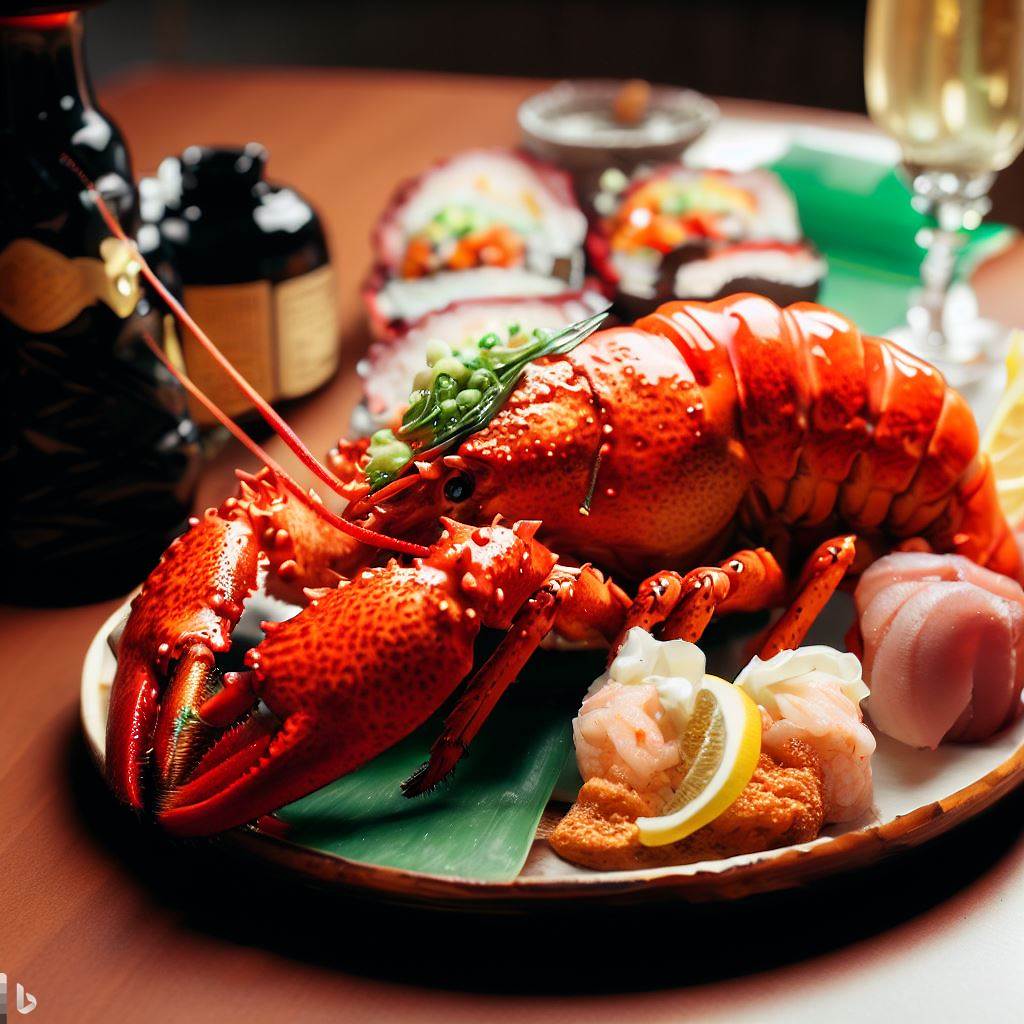 Welcome, esteemed gourmand, to the wacky world of devouring braised lobster and sushi rolls with all the fixings at a Japanese restaurant! Brace yourself for a culinary adventure that's equal parts dexterity, courage, and an unbridled passion for seafood.
Step 1: Suit up!
Don your finest sushi-eating attire and channel your inner samurai. Feel free to accessorize with a chopstick holster, but be warned: you'll need to wield those wooden warriors with skill and precision!
Step 2: Enter the arena.
Find your seat and prepare for battle! The plate before you is a sumptuous sea of delights: braised lobster, sushi rolls, wasabi, sliced ginger, caviar, lemon, and a shot of shochu to wash it all down. Stretch your chopsticks fingers, do a quick warm-up, and let the feast begin!
Step 3: Lobster limbo.
First, conquer the braised lobster, the armored knight of the sea. Pick up the lobster with your chopsticks and perform the "lobster limbo." Dip it into wasabi, then ginger, and then caviar, like a well-choreographed dance number. Finally, give it a gentle squeeze of lemon, and send it on a one-way trip to your taste buds.
Step 4: Sushi roll rodeo.
Now, it's time to tame the sushi rolls. Hold your chopsticks like a pair of tiny lassos and corral a roll into submission. Like a sushi whisperer, whisper sweet nothings to it while you dip it in wasabi, ginger, and caviar. Then, with the grace of a samurai, escort it into your mouth.
Step 5: The wasabi wallop.
Embrace the spicy green dragon, dear friend. With a firm, yet tender grip on your chopsticks, scoop up a dollop of wasabi and dab it onto your sushi roll. Beware the Wasabi Wallop – it's a sneaky uppercut that'll send your sinuses into overdrive!
Step 6: Ginger getaway.
Take a break from the main event with a ginger getaway. Like a ninja in the night, snatch a slice of ginger with your chopsticks and pop it into your mouth. Let its refreshing tanginess cleanse your palate, preparing you for the next round of seafood shenanigans.
Step 7: Caviar catapult.
Time to add a touch of luxury to your meal. Load your chopsticks with a spoonful of caviar, aim for the sushi roll, and fire! Voilà, you've successfully catapulted your meal into the realm of the extravagant!
Step 8: Lemon twist.
Add a spritz of lemon to your dish for that zesty zing. Channel your inner citrus samurai and slice through the air with a lemon wedge, showering your meal with tangy droplets of flavor.
Step 9: Shochu showdown.
Finally, the shochu showdown. Knock back a shot of this delightful beverage to wash down your epic meal. Tilt your head back, pour the shochu down the hatch, and revel in your victorious culinary conquest.
And there you have it! You've just experienced the ultimate seafood showdown, complete with braised lobster and sushi rolls, all topped off with wasabi, sliced ginger, caviar, and lemon. So, until the next time you feel brave enough to enter the arena, sayonara, sushi warrior!